Gel Technology
ALPS gel is a highly elastic material characterized by its superb capacity to absorb friction and shear forces. Integrating this material into ALPS products has been fundamental in allowing us to produce prosthetic leg liners that can guarantee:
the greatest possible comfort

perfect wearability

a wide range of models to choose from, assuring patients access to the best liner to suit their individual needs

maximum gentleness on the skin and the residual limb

the durability that only a high-quality product can provide

the security to be able move around safely
Lower limb prosthetic liners: the importance of the technology of the materials
Prosthetic liners and sleeves provide the interface between the residual limb of the amputee and the socket, one of the many elements that make up a prosthetic leg: their aim is to provide the user with consistent and reliable comfort, control and stability.
As liners and sleeves are in direct contact with the skin of the residual limb, they act as a second skin for the amputee. It is therefore extremely important that the material they are made of is gentle and skin friendly, to avoid irritating the skin and to minimize any issues related to amputation and the need to wear a prosthetic device.
ALPS expertise in the field of chemistry and our position as a leading manufacturer of advanced gel-based medical devices have led to the development of a wide range of prosthetic liners and sleeves over the years, characterized by an innovative and unique product: our patented gel.
The technology behind ALPS gel
ALPS Gel is a thermoplastic elastomer (TPE) which offers an optimum level of protection against shear forces and other stresses, guaranteeing the perfect combination of control and uniform distribution of pressure within the socket thanks to its characteristic low modulus of elasticity.
This means that ALPS Gels are more elastic and deform more easily under compression than silicone:
at 40 psi, our Gel stretches to about 14 times, or 1400%, of its original length
silicone, instead, only extends about 3 times, or 300% of its original length at 40 psi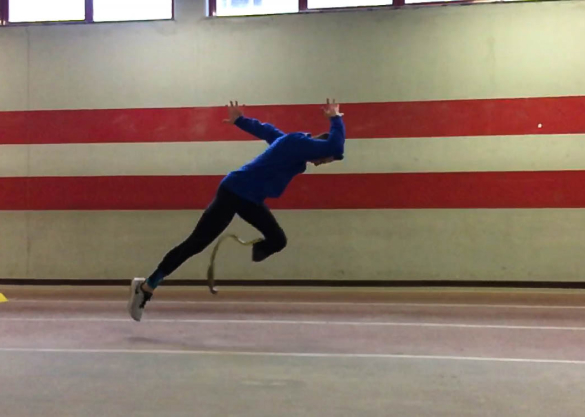 Gel Alps vs. Silicone
ALPS Gel is far more flexible and resistent, not only compared to silicone, but also with respect to other thermoplastic gels being used in the lower limb prosthetic liner industry. ALPS Gel offers up to six times the elasticity of other thermoplastic (TPE) gels on the market, as was shown in a test measuring both the elasticity of the material and designed to discover how much stress it took to actually damage it.
While the low modulus of elasticity, or ease of stretch, is a beneficial property for all users of prosthetic legs, it is particularly indicated for dysvascular patients. The Gel conforms to the point where pressure is applied without restricting of blood flow, while providing  compression and stability. At the same time it grants extended durability to both liners and sleeves.
It is this important mechanical property that allows ALPS Gel to guarantee prosthetic leg wearers the comfort, durability, control and safety they need to grant them the mobility and freedom of movement nec
Three  types  of  ALPS Gels  to serve the  mobility needs  of prosthetic leg wearers
ALPS makes three types of gels to meet the needs of every individual prosthetic leg user whose requirements vary based on their clinical condition and lifestyle : EasyGel, GripGel and HD Gel. The full range of  ALPS Gels  means that each patient will be able to find his or her own, unique,  perfect comfort.
EASYGEL
EASYGEL was the first kind of gel developed by ALPS. It is characterized by its soft, powdery texture.
It is rich in antioxidants that are an effective scavenger of free radicals and hydroxyl groups
Best for use on amputees with adherent scar tissue, skin irritations, sensitive skin and diabetics
HIGH DENSITY GEL – silicone equivalent
Dense, firm texture. Relatively firm nature of the HD Gel combines comfort with control and stability.
Best for use on highly active patients who are transitioning from a silicone liner to a gel liner
GRIP GEL
Smooth, tacky texture. Tackiness helps in reducing bunching in the popliteal area. Best for use on amputees with healthy skin tissue.