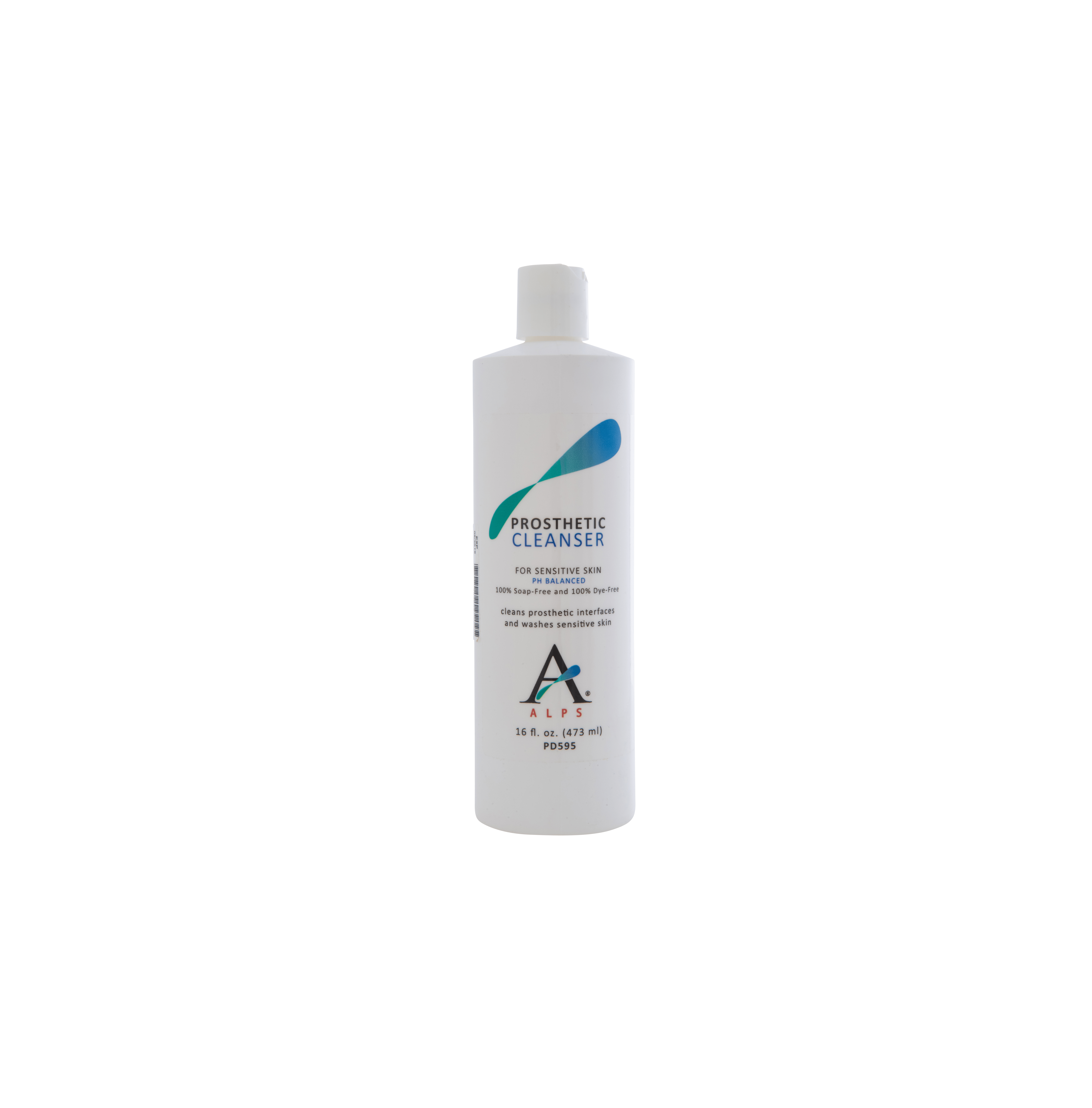 Prosthetic Cleanser
ALPS Prosthetic Cleanser is a non-alkaline, soap-free cleansing agent designed to help remove dirt and excess perspiration from prosthetic liners and sleeves. Its unique formula allows it to work efficiently with hand washing or machine wash settings to effectively clean and restore items back to their original state.
Key benefits
Developed to remove dirt and excess sweat from prosthetic liners and sleeves, either by hand or in the washing machine. It is recommended for use with all liners

Suitable for sensitive skin: thanks to its delicate formula it can also be applied to the areas of the skin that come into contact with the prosthesis

Without soap or dyes: 100% free of soaps and dyes that could be aggressive

Balanced ph: the non-alkaline silicone-based formula soothes the skin and does not damage the liner.
Product Code
| PRODUCT NO. | AMOUNT | QUANTITY |
| --- | --- | --- |
| PD 595 | 443 ML | x 1 |
| PD 595 BX12 | 443 ML | BOX OF 12 |
Want to know more?
Our specialists will be happy to answer all your questions
Contact us
Massimo Giandinoto

When Massimo was 9, he was diagnosed with osteosarcoma on his left heel and it was decided a month later that the limb had to be amputated immediately. Despite this, he spent a lot of time doing sports like running and pararafting. In 2018 he won the Italian Championship for both the 60-meter and the 200-meter indoor and he was contacted by the Italian Rafting Federation. Sports have always been a fundamental part of his life. It's what saved him, making him feel like he fits in with everybody else.

Discover

Robert Rodriguez

Robert Rodriguez was born with a birth defect called fibular hemimelia. At ten months old, his mother faced the tough decision to amputate his leg. She was unsure if she was making the right decision for her son, but Robert is thankful she did. Due to his amputation and wearing a prosthetic, he is proud to show others that he, and all amputees, are capable of doing the same things as any other able-bodied individual.

Today, Robert is a father, a husband, a motivational speaker, and an athlete. He competes on the Para-Elite Triathlon Team for Team USA and Team USA for amputee soccer. The trials and tribulations Robert has had to mentally and physically overcome as a young man has taught him to always push through no matter the circumstances. Through his experiences, he has learned that sometimes things aren't as bad as they seem, and success is on the other side if we continue to work hard.

Discover

Daniela Pecinová

Daniela lost her right leg after a tumor was discovered there when she was 16 years old. Now Daniela is proving she is a fighter. After starting pole dancing – Para pole – she became the world champion in 2016. ALPS liners allow her to wear her prosthesis all day long, keeping Daniela comfortable as she goes about her daily activities.

Discover